A PHP Error was encountered
Severity: Notice
Message: Undefined offset: 0
Filename: gmap/mod.gmap.php
Line Number: 454
A PHP Error was encountered
Severity: Notice
Message: Trying to get property of non-object
Filename: gmap/mod.gmap.php
Line Number: 454
A PHP Error was encountered
Severity: Notice
Message: Trying to get property of non-object
Filename: gmap/mod.gmap.php
Line Number: 454
A PHP Error was encountered
Severity: Notice
Message: Trying to get property of non-object
Filename: gmap/mod.gmap.php
Line Number: 454
A PHP Error was encountered
Severity: Notice
Message: Undefined offset: 0
Filename: gmap/mod.gmap.php
Line Number: 455
A PHP Error was encountered
Severity: Notice
Message: Trying to get property of non-object
Filename: gmap/mod.gmap.php
Line Number: 455
A PHP Error was encountered
Severity: Notice
Message: Trying to get property of non-object
Filename: gmap/mod.gmap.php
Line Number: 455
A PHP Error was encountered
Severity: Notice
Message: Trying to get property of non-object
Filename: gmap/mod.gmap.php
Line Number: 455
A PHP Error was encountered
Severity: Notice
Message: Undefined offset: 0
Filename: gmap/mod.gmap.php
Line Number: 513
A PHP Error was encountered
Severity: Notice
Message: Trying to get property of non-object
Filename: gmap/mod.gmap.php
Line Number: 513
A PHP Error was encountered
Severity: Notice
Message: Trying to get property of non-object
Filename: gmap/mod.gmap.php
Line Number: 513
A PHP Error was encountered
Severity: Notice
Message: Trying to get property of non-object
Filename: gmap/mod.gmap.php
Line Number: 513
A PHP Error was encountered
Severity: Notice
Message: Undefined offset: 0
Filename: gmap/mod.gmap.php
Line Number: 514
A PHP Error was encountered
Severity: Notice
Message: Trying to get property of non-object
Filename: gmap/mod.gmap.php
Line Number: 514
A PHP Error was encountered
Severity: Notice
Message: Trying to get property of non-object
Filename: gmap/mod.gmap.php
Line Number: 514
A PHP Error was encountered
Severity: Notice
Message: Trying to get property of non-object
Filename: gmap/mod.gmap.php
Line Number: 514
A PHP Error was encountered
Severity: Notice
Message: Undefined index: data
Filename: mx_facebook/pi.mx_facebook.php
Line Number: 107
A PHP Error was encountered
Severity: Warning
Message: Invalid argument supplied for foreach()
Filename: mx_facebook/pi.mx_facebook.php
Line Number: 107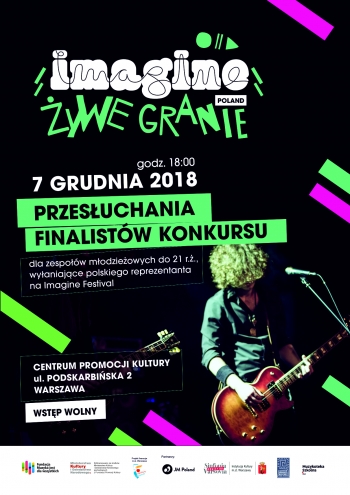 Na scenie przesłuchań krajowych w najbliższy piątek w Centrum Promocji Kultury w Warszawie staną:
Sprawdźcie kolejność występów w finałowym przesłuchaniu Imagine - Żywe Granie i kibicujcie swoim faworytom 7 grudnia w Centrum Promocji Kultury!
17:45 SKENE
18:05 Syndrom
18:25 Eye of the storm
18:45 Ania Cieśla
19:05 Melon Bar
19:25 The Wall
Wpadajcie im kibicować, wstęp wolny!
Przesłuchania wyłaniają polskiego reprezentanta na Imagine Festival w Maastricht.

Organizatorzy: Fundacja Muzyka jest dla wszystkich, JM Poland. Projekty współfinansowane przez Ministerstwo Kultury i Dziedzictwa Narodowego z Funduszu Promocji Kultury oraz Miasto Stołeczne Warszawa.
Friday 7 December 2018
Start: 17:45
Friday 7 December 2018
End: 20:00
Warszawa, ul. Podskarbińska 2